Pricing
Basic license fee @ $299.00 per copy
(All purchasers pay this)
Additional user licenses @ $100.00 per user: *
*For network users, you do not need to purchase a license fee for each person with access to the program on the network, but only for the number of people actually expected to use the program.
Upgrades from version 2013
And since you asked...there is no cheaper upgrade cost for current users. The reasons are several: first, the program is pretty cheap anyway, you'll have to admit. Also, we do not charge an annual fee, and sometimes years go by between updates. And if you do not need the new features (such as the prior gift calculaor, net and net, net gifts etc.) your prior version 2013 may be all you need.
You can get Tiger Tables several ways:
1. For fastest service, we urge you to download Tiger Tables from this web site.

Click on the shopping cart above and you will then be linked to our secure server where you can enter your credit card information and then download the software. OR
2. Click on the form below, print and mail it to us at the address below or fax it to us at 314-552-7187.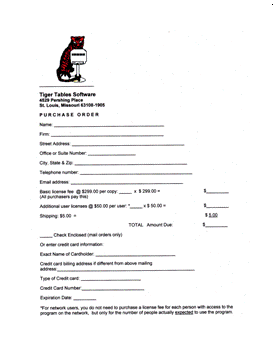 Tiger Tables Software
4529 Pershing Place
St. Louis, Missouri 63108