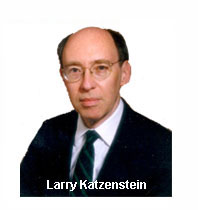 Tiger Tables author Lawrence P. Katzenstein, a nationally-known authority on estate planning and charitable giving, is available for consultation on an hourly rate basis.
Katzenstein received his undergraduate degree in 1969 from Washington University in St. Louis and his law degree in 1972 from Harvard Law School.. He is a partner at St. Louis law firm Thompson Coburn LLP and an adjunct professor at the Washington University School of Law where he has taught both estate and gift taxation and fiduciary income tax, a former chair of the American Bar Association Tax Section Fiduciary Income Tax Committee, current chair of Tax Section charitable planning subcommittees and is a fellow of the American College of Trust and Estate Counsel.
Mr. Katzenstein practices extensively in the estate planning and charitable giving areas, and represents many planned giving programs. He is a frequent author and lecturer on estate planning and charitable giving topics, and chairs the American Bar Association-American Law Institute annual program on charitable giving techniques. He appears annually on several American Bar Association-American Law Institute estate planning programs, and has spoken at many other national tax institutes, including the Notre Dame Tax Institute, the New York University Tax Institute, the University of Miami Philip E. Heckerling Institute on Estate Planning, the Southern Federal Tax Institute, and the Southern California Tax and Estate Planning Forum.
His Tiger Tables actuarial software is used widely around the country by both practitioners and the Internal Revenue Service. Mr. Katzenstein is listed by Best Lawyers in America in the trusts and estates category, which also recently designated him "St. Louis Best Lawyers Trusts and Estates Lawyer of the Year."
Mr. Katzenstein is married and has one daughter. You can reach him at: lkatzenstein@thompsoncoburn.com.
Direct Dial: (314) 552-6187
Cell: (314) 602-6187